FUNKY FARMS (Assorted Flavor)
FUNKY FARMS (Assorted Flavor)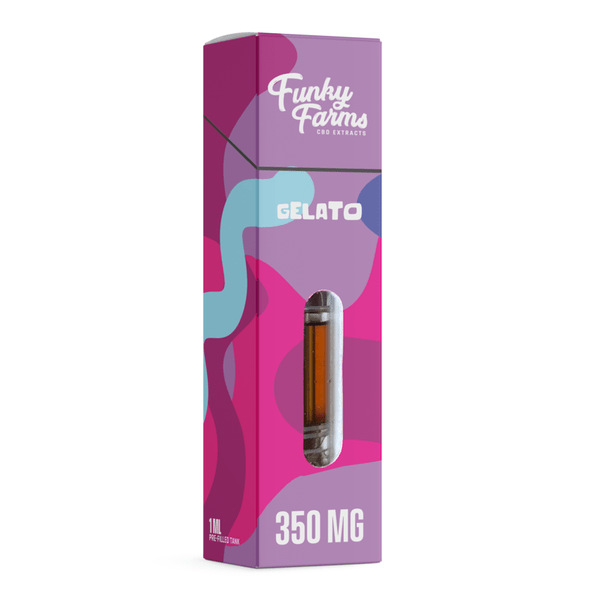 FUNKY FARMS CBD VAPE CARTRIDGE - 350MG
Made in USA
Full Spectrum Hemp Extract

Terpene Rich

Highly Concentrated

MCT Oil
Each Funky Farm CBD Vape Cartridge is packed with 350mg Full Spectrum Distillate Hemp Extract. Blended with delicious flavors and naturally rich in Terpene. These 510 Threaded carts using wickless ceramic coils to give you the best CBD vape experience.
Flavors:
FROSTY WATERMELON
If you need something a little more funky and fun in your CBD vape pen cartridge, then Funky Farms has developed the Frosty Watermelon flavor just to help you get grooving. Rich in terpenes and full on flavor, Frosty Watermelon combines the natural cannabis terps with CBD and MCT oil for a one-of-a-kind vape experience
GRANDDADDY PURPLE
A truly relaxing experience, the Granddaddy Purple flavored CBD cartridge is rich in cannabis terpenes that will have you dropping all that extra baggage from the day's stress. Mixed with a full spectrum hemp extract, the Granddaddy Purple cartridge from Funky Farms is not one you want to miss.
GELATO
With the power of full spectrum hemp extracted CBD, combined with the natural flavors of cannabis terpenes and MCT oil. With 350mg of concentrate per cartridge, this Funky Farms product is sure to last you as long as you need, and to be delicious all throughout.
LEMON CAKE
If you need a dessert vape that isn't going to melt you into the couch, the Lemon Cake vape cartridge from Funky Farms provides a buzzy mood boost. And with full-spectrum hemp extract, things will never get too racy, but they will bring a lift that you can't always get from a cup of coffee.
THIN MINT
Just like your favorite cookie that comes to your doorstep, the Chocolate Mint flavor CBD cartridge from Funky Farms is a delicious little treat. Highly concentrated terpenes, MCT Oil, and CBD extract, these cartridges are reliable as they are tasty, and every bit as effective as you need.
Sizes:
350mg CBD in 1ml cartridge