Quick Clear Detox Drink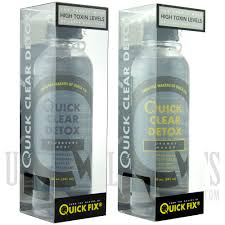 Quick Clear Detox, has come out on the market from the makers of Quick Fix, and is one of the most powerful Detox Drinks on the market designed for ALL smokers regardless of their weight, Using natural and organic flavoring to create a great tasting drink you wont have to choke down. Available in Orange Mango and Blueberry Acai flavors that are derived from organic or natural ingredients. All Quick Clear Detox drinks are Manufactured in the USA by a GMP compliant facility exclusively for Spectrum Labs
Instructions:
For best taste chill Quick Clear Detox drink before consuming.
Comfortably drink 20 ounces of water.
Wait 20 minutes, refill bottle with water and consume.
As part of the toxin elimination process it is important to urinate frequently.